Next Gen
Elena Blanco-Suárez:
All roads lead to science
From early on, it was pretty much a given that Elena Blanco-Suárez would be a scientist.
When she was three, she wanted to be a paleontologist. In grammar school, she was fascinated by parasites and endlessly drew the life cycles of the creatures in her favorite Alien movies.
By her early teens, she was obsessed with moving from her small hometown of Oviedo in northwestern Spain to America because she knew it was a great place for science—and all her favorite music and literature was there, too.
The land of some of her favorite post-hardcore punk groups would have to wait, however, for Blanco-Suárez to get her education, a travelogue in itself.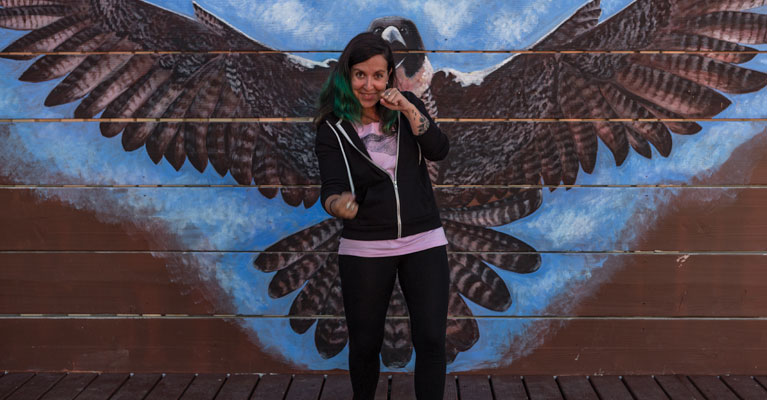 She first attended the yearlong ERASMUS European Exchange Program at the Aristotle University of Thessaloniki, learning to speak Greek from the elderly undertaker whose funeral home was below her apartment. She returned to Spain to get her bachelor's degree in biology from the Universidad de Oviedo and her master's in biochemistry from the Universidad Complutense de Madrid. Then, she was off to England to obtain her doctorate in biochemistry from the University of Bristol.
Blanco-Suárez's introduction to America essentially was the Salk Institute. She arrived in San Diego in July 2014 during Comic-Con weekend when nary a hotel room or Airbnb was to be found. Through Salk's Society of Research Fellows, which serves as ambassadors to new postdoctoral fellows, she was given a sofa to sleep on for a couple of days. "That saved my life," she says. "Otherwise, I was going to be sleeping on the beach." That Monday, she started working in Nicola Allen's lab.
While studying neurons at the University of Bristol, Blanco-Suárez read a Nature paper about Allen's research with astrocytes, the star-shaped cells discovered to be crucial to brain function and which may hold clues to understanding neurodevelopmental and degenerative diseases such as autism, epilepsy, schizophrenia, stroke and Alzheimer's. So impressed with the research and the fact Allen was a young investigator with her own lab, Blanco-Suárez made it her mission to become a research associate for Allen at Salk.
When she's not studying proteins in astrocytes, Blanco-Suárez is still all about the science. She likes to blog about science and advocates for young women to pursue careers in research. She regularly volunteers for Salk's Education Outreach program and the Saturday Science Club for Girls at the Fleet Science Center in Balboa Park. And this past fall, one of her microscopy images was the inspiration for a gown created for the Salk Women & Science Design and Discovery Fashion Showcase.
Blanco-Suárez does enjoy a break from the bench by exploring San Diego's craft beer culture and lively music scene. She hopes to stay in academia, preferably at an institution that models itself after Salk. "I love what we do," says Blanco-Suárez. "I like the idea that it is nonprofit in the classical way. I like to think that we are giving something to society."
Support a legacy where cures begin.
Scientific discovery at the Salk Institute is made possible through your annual contributions. Your support will accelerate the pace of breakthroughs in understanding disease and pave the way to new drug therapies.
Get involved