OBSERVATIONS
Inside the Mind of Ted Waitt
Whether it's vital funding, imaginative technology or the perspective of a successful CEO, new Board Chair Ted Waitt says adding a little magic in the right place enables great discoveries.
In 2004, Ted Waitt was starting the next chapter in his life. He'd recently retired from Gateway, Inc., the computer company he founded in Sioux City, Iowa, in 1985 and guided to a phenomenal, multibillion-dollar success. He'd worked long and hard for that success, practically missing out on an entire decade by his own admission, because he was so focused. He was ready then to turn that focus toward other ventures. And he wanted to give back. A friend and fellow Iowan, Ted Roth, mentioned the Salk Institute. Have you seen it? He hadn't. So from his beach home he ventured along the coast to investigate. He liked what he found and, before long, had joined the Board of Trustees.
Business Week has named Waitt one of America's 50 most generous philanthropists. Many would add that he's also one of the most passionate. He disciplines his pursuits to a narrow focus in order to achieve the best results. Ocean conservation is one; preventing violence is another. And then there's scientific research. Waitt is passionate about developing the sort of cutting-edge technology that furthers scientific discovery. In 2008, his Waitt Foundation donated $20 million to Salk to fund the creation of the Waitt Advanced Biophotonics Center. This center develops next-generation imaging tools that enable investigators to visualize how living systems function at a level of detail previously not possible. These new insights are rapidly advancing Salk's research into aging, cancer, neuroscience, metabolism, vision, infectious diseases and genetic disorders.
In January, Waitt stepped into the role of chair of Salk's Board of Trustees. As passionate as ever about the power of science to improve the world and its people, he sat down for an interview to share his thoughts.
When you created the Waitt Foundation you were only 30 years old. That's a relatively early age to begin giving back to society. How did you decide what to focus on?
It was an interesting evolution. We started the foundation in Sioux City in 1993 and originally my sister did most of the work because I was still in CEO mode. When I retired from Gateway the first time, in 2000, we did projects helping at-risk communities and we launched some initiatives focusing on domestic violence prevention. But those were really started by my sister. It wasn't until I retired the second time—I went back to Gateway for a stint from 2001 to 2004—that I set out on this period of discovery. I like to call it finalizing my education. And I went on two boards, the National Geographic board and the Salk board.
What sold you on the Salk Institute?
Working with the faculty here and seeing the incredible science that's going on. I'm very fortunate that I've been able to further my education through Waitt during his days as CEO of Gateway 2000, the computer company he founded in 1985. the Rusty Gages, the Inder Vermas and their like who can teach me biology. I have the A team. I'm still in awe of what they do and their passion for their work. I have a tremendous amount of respect for them.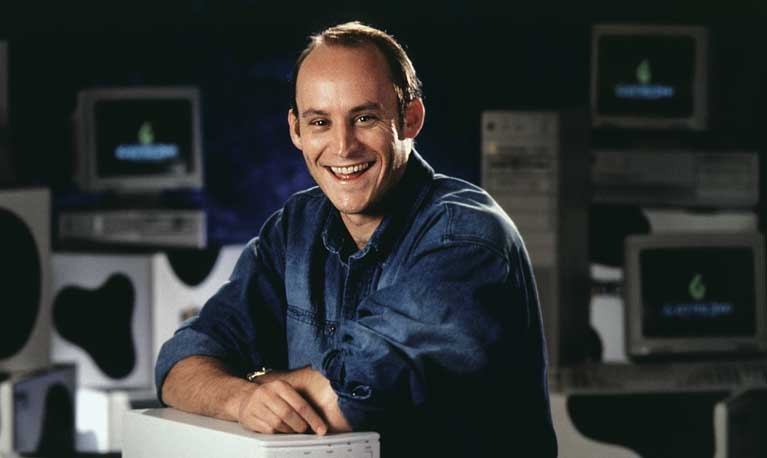 What was the conduit to your ocean work?
I was traveling the world, just exploring. As a member of the National Geographic board, I often worked with their scientists. One of the first big projects I got involved in was called the Genographic Project, and involved collecting DNA samples from indigenous peoples around the world. That project was based on The Journey of Man by Spencer Wells. It was fascinating. It's highly scientific but it's all about history, not the future, as the science here at Salk is.
My interest in oceans comes from seeing firsthand how badly we've degraded the ocean, and then looking at the science to see if it can come back quickly. The scientists are predicting a total disaster by 2048 in the oceans, but we can do something about it. It's the biggest problem no one knows about. There's still time to fix our oceans. The foundation works to end overfishing, create marine protected areas and raise public awareness about the rapid decline in ocean health. It's all based on science. Everything I do now is founded on strong basic research because that proves what works.
You're known as a hands-on leader, right? You like to get your hands dirty?
Yes, it's just my nature. I come from a long line of entrepreneurs, or "highly unemployable people," as I call them. It's the CEO in me and the entrepreneur in me. I want to contribute where I'm needed. That's also the reason that I don't sit on a bunch of boards; I want to do effective work.
Salk is an entrepreneurial place in terms of science.
Yes, it is. And I definitely gravitate toward scientists and the way they work as opposed to corporations. But Gateway was an unconventional corporation; we were highly entrepreneurial in our advertising, our marketing. We were taking on the big guys, challenging conventions.
As chair, how do you let Salk be Salk? How can it continue to be entrepreneurial but adapt and grow as an organization? What's your vision for the Institute?
I've been working with Liz Blackburn for about a year now and we both want to maintain that entrepreneurial spirit that's born of passion yet still works within a structure. It's a delicate balance but we know from experience there's magic when you collaborate. So our strategy is to find those specific places where you can put in a little magic, add some resources or a connection that can enable great discoveries. At the end of the day, it's all about giving people the tools they need to go do incredible work and then staying out of the way.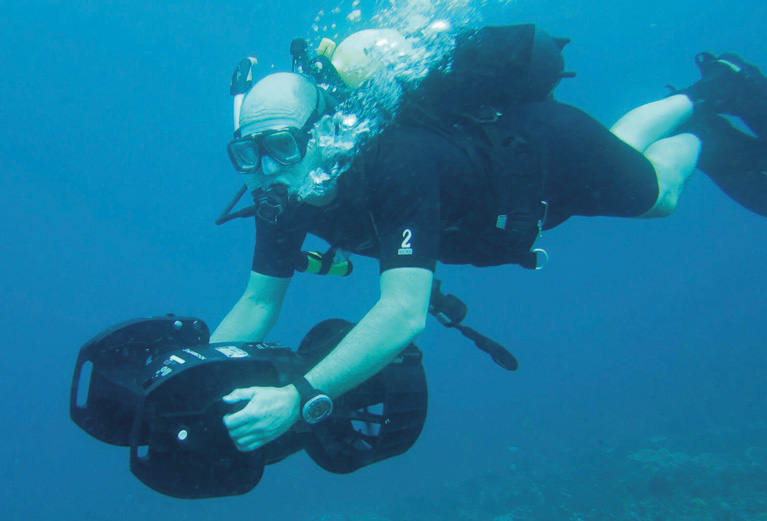 Where are we in the history of science?
Advances in technology are fueling amazing breakthroughs in basic science. They're enabling us to see and do things in a different way. As Liz says, we used to take things apart to see how they worked; now we're putting them back together to see how they interrelate. We're learning so much about how the bacteria in our bodies affect the nervous system or how plants work together in a microenvironment.
We're facing some pretty steep challenges—climate change, an aging population, threatened food supplies. Again, I firmly believe that with the power of technology and science—along with education—we'll be able to solve these problems. It's very motivating. When something has the potential to save the world, that drives you.
Support a legacy where cures begin.
Scientific discovery at the Salk Institute is made possible through your annual contributions. Your support will accelerate the pace of breakthroughs in understanding disease and pave the way to new drug therapies.
Get involved