In the News
Introducing Salk's newest president, Gerald Joyce
Joyce, a pioneer in the field of test-tube evolution, succeeds Rusty Gage, who will return to his lab following a transformative leadership tenure.
On February 16, 2023, the Salk Institute Board of Trustees, with the guidance and support of Salk faculty and administrative leaders, announced the appointment of Gerald Joyce, Salk senior vice president and chief science officer, as the Institute's new president. Joyce assumes the role April 21.
Already a self-described "Salkie deep in the veins," Joyce began his scientific career at Salk. As a new UC San Diego graduate student, Joyce walked across the street to Salk to ask two of the Institute's first fellows, Leslie Orgel and Nobel Prize Laureate Francis Crick, what they thought about the origins of life and early evolution. In the late 1960s, Orgel and Crick advanced what has become known as the "RNA World" hypothesis, which posits that life began with RNA, rather than DNA and protein. These topics have long fascinated Joyce, and he eventually completed his PhD thesis working with Orgel on RNA chemistry.
Joyce went on to serve as a faculty member and dean of the faculty at Scripps Research and as institute director at the Genomics Institute of the Novartis Research Foundation (GNF). He returned to the Salk Institute as a faculty member in 2017, and in 2022 he was appointed Salk's senior vice president and chief science officer.
Joyce is considered a pioneer of in vitro (test-tube) evolution, a field that seeks to evolve molecules to adopt new functions, including those that would enable one to re-create the biomolecules of early life in the laboratory and to coax the building blocks of RNA to assemble, replicate, and evolve.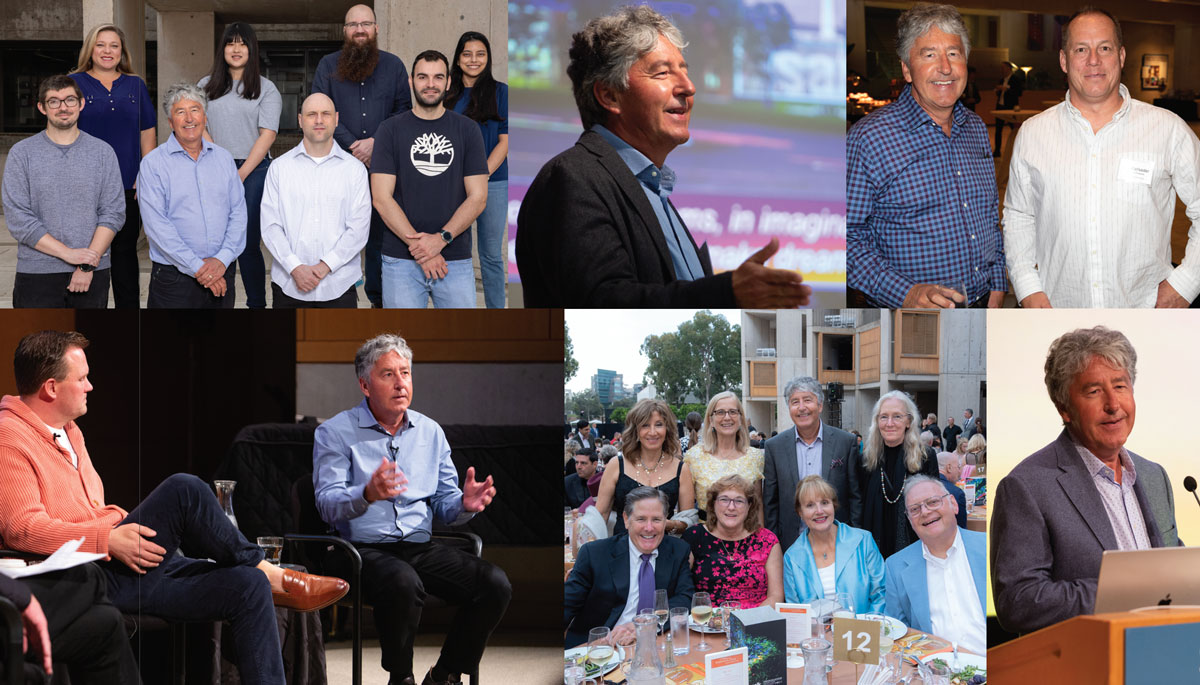 Lab shot: Back Row: Faye McDonald, Yu Ting Huang, David Horning, Ankana Kakoti; Front Row: Noah Setterholm, Gerald Joyce, Grant Bare, Nikos Papastavrou; Top right: Jerry Joyce and Jan Karseder; Bottom left: Bryan Robinson and Jerry Joyce; Bottom right: Back Row: Afsi Loghman, Brigitta Best, Gerald Joyce, Nancy McTigue; Front Row: Matthew Bacino, Sue Bacino, Julie Sarno, Jay Sarno.
Among his many accomplishments, Joyce is known for engineering an RNA enzyme that makes a mirror-image copy of itself. The molecule, which he termed a "cross-chiral" enzyme, could be how the earliest self-copying molecules emerged on Earth. He also designed the first and several subsequent examples of DNA enzymes, some of which are now being tested in human clinical trials for the treatment of cancer, asthma, and skin diseases.
As Salk president, Joyce will lead the Institute's scientific and philanthropic strategies, including the Campaign for Discovery, a seven-year, $750 million comprehensive fundraising effort focused on accelerating discoveries in six critical research areas: cancer, healthy aging, plant biology, immunobiology, neuroscience, and computational biology.
"Salk's prime objective has always been and always will be to produce high-impact science—that's what the Institute is best at and that's why I'm thrilled and honored to serve as president," Joyce says. "I see this role as both a steward, overseeing this iconic campus that has been home to a long history of fundamental discoveries; and as a guide, leading the Institute's continued evolution as science evolves. The investments we make in people and technology today will launch a thousand ships tomorrow. I can't wait to see what we will achieve together."
Joyce graduated with a BA from the University of Chicago in 1978 and both an MD and PhD from the University of California San Diego in 1984. He completed his postgraduate medical training at Mercy Hospital in San Diego and postdoctoral research training at the Salk Institute.
He is a member of the American Academy of Arts and Sciences, the National Academy of Medicine, and the National Academy of Sciences; a fellow of the American Association for the Advancement of Science; and a foreign member of the Royal Swedish Academy of Sciences. He has received numerous awards and honors, including the 2005 International Society for the Study of the Origin of Life HC Urey Award, 2009 Göttingen Academy of Science's Dannie Heineman Prize, 2010 US National Academy of Sciences Award for Early Earth and Life Sciences (Stanley Miller Medal), and 2016 Harvard Origins Prize.
Joyce succeeds Professor Rusty Gage, who served as Salk's president for the past five years. Gage, a renowned neuroscientist, will return to leading his research laboratory full time.
"As I pass the baton, I have every confidence that our momentum will continue and build under the capable leadership of Jerry Joyce, whose multitude of professional accomplishments are only eclipsed by the magnitude of his personal character," Gage says.
To learn more about Joyce's personal and scientific journey, read the Q&A "Gerald Joyce: An Organizing Force" in the Winter 2022 issue of Inside Salk magazine.