In the News
Joan and Irwin Jacobs
A perfect match
Joan and Irwin Jacobs donate $100 million, a transformative gift, to Salk's Campaign for the Future
Are you up for a challenge?
Irwin and Joan Jacobs like a good challenge, and they think Salk supporters do, too. That's why they've established a match challenge to help the Institute build the new, state-of-the-art Joan and Irwin Jacobs Science and Technology Center, where the brightest minds will seek solutions to our most difficult health problems. With this challenge, the Jacobs will match every $2 donated with $1, to fund the cutting-edge new center—and a brighter future for us all. Salk scientists are bold, visionary and committed to making the world a better place. Salk supporters are, too. Together, we can meet any challenge.
Irwin and Joan Jacobs know a thing or two about perfect matches—they've been married over 65 years and traveled the world together. Along the way, the pair have become two of the most admired and beloved supporters of the arts and sciences in San Diego, and beyond. Through their investment of time, counsel and philanthropic giving, they have enriched the lives of people around the world, most of whom will never know of the Jacobs' good deeds. Their journey began, however, on the other side of the country.
Like Jonas Salk, Irwin Jacobs began his career at a university on the East Coast. In 1959, a few years after Jonas Salk's polio vaccine was declared safe and effective, Jacobs was an assistant professor of electrical engineering at MIT, still decades away from pioneering wireless cell phone technology and founding Qualcomm, a Fortune 500 company that would put space-age computational power in everyone's hands. But his journey towards that destination would soon begin and, like Jonas Salk, it would lead him to San Diego.
It was in 1965 when Joan and Irwin Jacobs first saw the Salk Institute on a visit to San Diego, the newly completed edifice gleaming like a jewel above the Pacific Ocean. Irwin Jacobs recalls being wowed by the sight. The following year, proximity to the stunning Institute and the opportunity for Irwin to teach at the new university across the street—UC San Diego—were deciding factors in the couple's decision to relocate their young family from Boston to La Jolla.
Irwin Jacobs was a professor of computer science and engineering at UCSD until 1972, when he left academia to work in industry. Several years later, in 1985, he invited colleagues to a meeting in the couple's San Diego home where Qualcomm would be born. He would lead Qualcomm as it developed the industry standard for cellular technology, code division multiple access (CDMA), becoming a San Diego success story with over 22,000 employees around the world. Today, Qualcomm is a global leader in developing many of the technologies that are found in smartphones and wearables, cameras and computers, among many other products. The phenomenal success of Qualcomm, which Jacobs led as CEO for 20 years, and as chairman through 2009, suggests his joining industry was the right decision.
In November, the Jacobs were joined by Salk President Rusty Gage in announcing their donation of $100 million to Salk's Campaign for the Future: Building a More Resilient World. The transformative gift, a $100 million challenge that will help Salk raise an additional $200 million, will enable construction of the Joan and Irwin Jacobs Science and Technology Center at the Salk Institute. The new building will be constructed on the current site of a parking lot bordering the east side of the campus, which runs adjacent to North Torrey Pines Road.
The Science and Technology Center will be home to four Centers of Excellence and will provide critical research and administrative space that will advance and expand Salk's scientific efforts for generations to come. (See Inside Salk, Fall 2021.)
Today, the Jacobs name is inextricably linked to both UC San Diego and Salk, two of San Diego's pioneering research centers that sit side-by-side, each having established itself as among the top research institutions in the world. The Jacobs' generosity has touched dozens of additional organizations in San Diego and beyond.
"Joan and I long ago began a family tradition of supporting interesting nonprofit institutions with the potential to impact many," says Irwin. "We enjoy working with projects that have well-defined goals and good leadership, and Salk is exemplary in both ways."
The couple's involvement with the Institute goes back much further than the recent gift. It began when Irwin Jacobs joined the Salk International Council (now the Institute Council), a group of professionals dedicated to advocating for Salk science. A 2003 lunch with Salk faculty Francis Crick, Sydney Brenner, Rusty Gage, Charles Stevens and Terrence Sejnowski really piqued his interest.
"I found that neuroscience had connections back to my work in information theory and communications which could be pursued," Irwin Jacobs later told Inside Salk.
Those connections were reified in 2004, when the Jacobs helped to establish the Crick-Jacobs Center for Computational and Theoretical Biology, where Salk scientists use computer modeling to study how the brain processes information.
When Irwin Jacobs retired from Qualcomm in 2006, he devoted more time to Salk, becoming Chair of the Board of Trustees, a position he held until 2016.
In his role as Chair, Irwin Jacobs spearheaded Salk's first capital campaign, The Campaign for Salk, which raised $360 million for the Institute. In 2008, as part of that effort, he and Joan established the Joan Klein and Irwin Mark Jacobs Senior Scientist Endowed Challenge, encouraging donors to endow 20 chairs for senior Salk scientists. For every $2 million that a donor contributed toward an endowed chair at the Institute, the Jacobs added $1 million to achieve the $3 million required to fully endow a chair for a Salk senior faculty member. This level of support ensured that Salk scientists could continue to pursue the bold, life-changing science the Institute is renowned for. All 20 chairs were endowed.
"It's a testament to Irwin's Board leadership and the respect people have for both Joan and Irwin that Salk's 2008 Campaign was so successful," says Gage. "Joan and Irwin lead by example, and others feel honored to follow."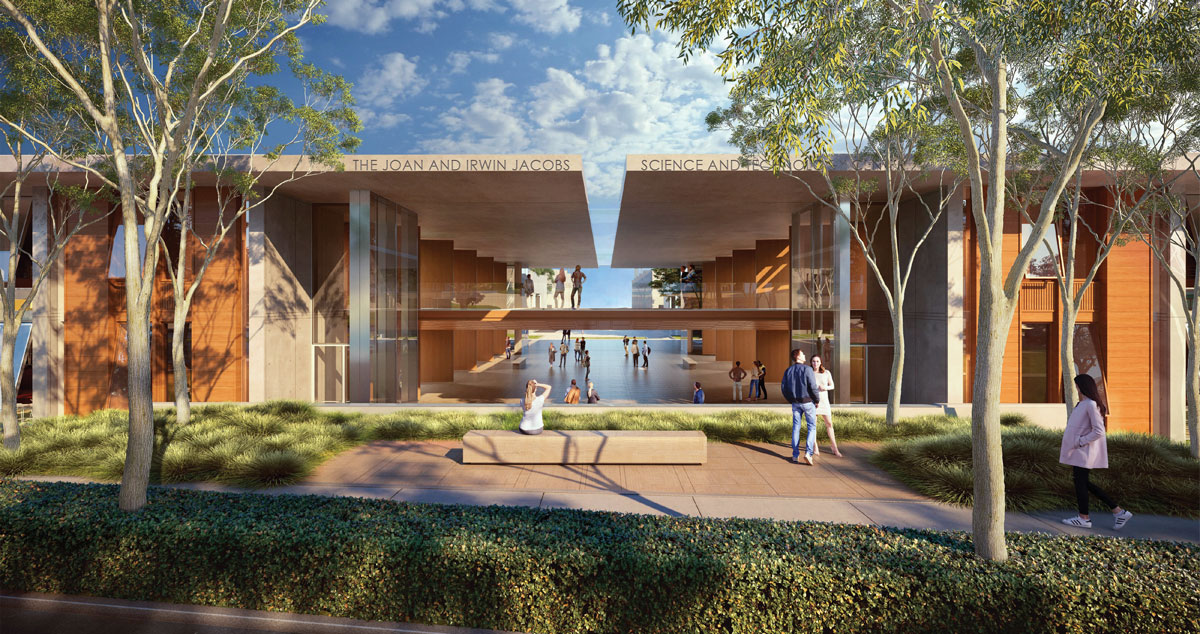 After the Chair Challenge, the Jacobs launched Salk's Innovation Grants Program, a donor-funded way to support out-of-the-box, potentially trailblazing research ideas that would otherwise not attract traditional funding. Over the years, the program has supported dozens of projects and resulted in paradigm-shifting results reported in high-impact journals such as Science, Cell, Nature, PNAS and Neuron. (Read about the latest grantees in Spotlight.)
In addition to providing funds for numerous other key programs and initiatives at the Institute, the Jacobs are steadfast supporters of Symphony at Salk, the Institute's annual "concert under the stars," when the San Diego Symphony performs in the iconic Salk Courtyard. For the 25th anniversary of Symphony at Salk in August, the Jacobs were Zenith sponsors, the highest level of sponsorship.
"Joan and Irwin's support of Salk is unwavering," says Rebecca Newman, vice president for External Relations. "They have consistently supported the Institute's highest priorities and now have provided an extraordinary opportunity for us to succeed with the Campaign for the Future."
It seems fitting that the Jacobs, with Irwin Jacobs' background in engineering and computer science and the couple's longtime support of Salk's computational biology, should be providing a key gift to the Campaign for the Future, helping to recruit computer scientists, bioengineers and mathematicians and expanding the Institute's computational biology infrastructure. Dozens of the world's brightest minds will find a welcome home in the Joan and Irwin Jacobs Science and Technology Center at Salk.
Through their generosity, the Jacobs' gift will advance scientific research at Salk for generations to come. Jonas Salk once said that the most important question we could ask ourselves is "how to be good ancestors." In a partnership that has spanned decades, Joan and Irwin Jacobs have shown us all how to answer that question.